Baker Hughes: Unique Technology Drivers, Significant Upside (NYSE:BKR)
Introduction
It's been a while since we took a look at Baker Hughes (BKR). Too long actually, but time may help to provide perspective on our core interest, are they investible at this point in time?
Baker, a leading producer of energy related good and services, reported a dismal Q2 and guided down any investors expectations for the immediate future. As the share price indicates, any recovery in OFS remains a story for a few quarters down the road. Farther than the eye can see actually. A story that's been largely true for several years now.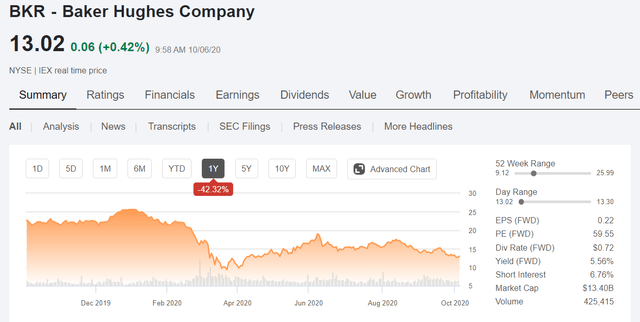 Source
There were a few bright spots and instead of a recap of lousy revenue and profit numbers, and the expectation of more of the same, we will focus on the bright spots in this article.
There is also the dividend currently yielding ~5.5%. We'll touch on its relative safety as we wrap up.
Note – this article appeared last week in the Daily Drilling Report!
The investment thesis for Baker Hughes
As with all the major Oilfield Service-OFS companies, there has been a concerted effort to cut costs and generate cash flow from reduced revenues at Baker. They've been to execute on the cost cutting to the extent that $230 million operating cash flow was generated and an adjusted free cash flow of $63 million for the quarter. One can safely assume they are buying the large bundles of toilet paper at the discount warehouse.
As traditional oil and gas services remain in QoQ decline, Baker is working to build profit in areas where they have an advantage or specific expertise. Eventually, as drilling returns globally and rigs are added to shale plays, the shares of Baker and all the major service companies will rate multiple revisions as production cannot be maintained without
…