Data Is The New Oil (But Bits And Bytes Can't Fill Your Tank)
American shale fracking technology, and to a lesser extent Canadian oil sands, enabled easy access to billions of barrels of reserves and ushered in a new "era of energy abundance" driven by way too many producers producing – or capable of producing – way too many molecules. The result was a "no moat" energy sector, margins got clobbered, and energy stocks got hammered. Today, the global oil and gas industry is beholden to state controlled energy companies (Saudi Arabia, Russia, etc.) to withhold millions of barrels of spare production capacity off the market simply to achieve WTI=$40/bbl. Meanwhile, technology companies have flourished as smartphones and CPUs/GPUs continue to evolve to higher levels of sophistication and performance, while emerging technologies like 5G, the cloud, AI, and the IoT (internet-of-things) have become reality. E-commerce and many other technology trends have been pulled forward and accelerated by COVID-19 and the WFH and SFH movements. Data has become essential. Data is the new oil. And it's been that way for years now.
The result is no surprise and can be seen in a comparison between the Energy Select SPDR ETF (XLE) and the Invesco NASDAQ-100 Index ETF (QQQ) over the past decade: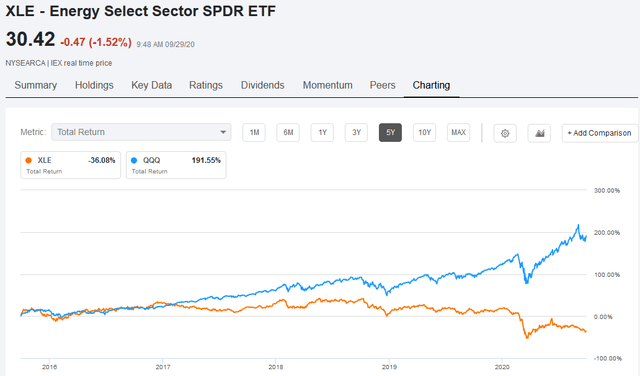 Source: Seeking Alpha Charting Tool
Technology out-performed energy by over 200% over the past 5-years while over the past 10-years it's even worse: almost 500%.
And, of course, this all makes sense. The 21st century will certainly be the century of electronic based technology – much of it software that takes advantage of all the bits-and-bytes of data that is mass collected and analyzed for a multitude of various insightful ways. I have no doubt that five-to-ten years from now all the rage will likely be about specific hardware and software applications that will be figuring out how to take full advantage
…